RiteWay System Repairs
Does your multipurpose court have cracks? The RiteWay system repair process can effectively eliminate the problem and keep the cracks from coming back. And in Utah, Courts Unlimited is the company to trust for repairs done the RiteWay.
With more than 25 years of experience designing, installing and repairing tennis courts, basketball courts, pickleball courts and other sports flooring surfaces, our professional contractors are among the most skilled in the state of Utah. We're trained and certified to complete RiteWay system repairs, and we guarantee both our workmanship and your complete satisfaction in our services.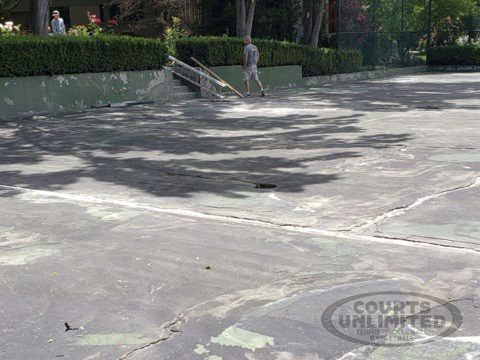 Post-Tensioned Courts
For new and rebuilt tennis, basketball and pickleball courts in Utah, post-tensioned court construction is the preferred approach for long-term stability. The technique is highly specialized, however, and few local contractors are certified to complete this type of work.
At Courts Unlimited, we have perfected the post-tension concrete process. Our team has been designing and installing high-quality multi-sport surfacing and courts for over 25 years, and our expertise and attention to detail ensure exceptional results. When it comes to post-tensioned courts, we're the Utah contractor homeowners and businesses trust.
Cushion Courts
Cushion court systems feature several layers of a specialized cushioning material atop an asphalt or post-tension concrete base. Competition venues and prestigious athletic events around the world choose cushioned sports flooring surfaces like DecoTurf®, Premier Court® and Plexipave® – and with Courts Unlimited, you can, too.
Whether you want to install a high-quality cushion court in your backyard or on a commercial property, you can count on our professional contractors. We have extensive experience designing and building multipurpose courts, and we guarantee our workmanship.
Courts Unlimited is Utah's premier multi-sport surfacing and court builder, and we're a leading source for customized multi-courts and cushioned tennis, basketball and pickleball courts. With us, you have your choice of the following cushion court systems.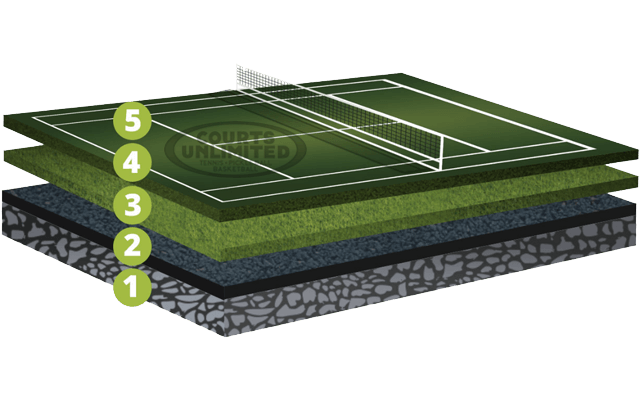 The DecoTurf® System
For tennis courts, basketball courts, pickleball courts and multi-courts in Utah, the DecoTurf® system is a superior sports flooring choice.
Multilayered DecoTurf® hardcourts and cushioned surfaces are regularly selected for use at professional tournaments and sports events around the world, including the US Open, the Olympic Games and the NCAA Championships. And with Courts Unlimited, you can have a competition-quality multipurpose court on your Utah property.
Our professional contractors have decades of experience in DecoTurf® system installation, so we're able to design and construct multi-sport game courts to meet the requirements of athletes and players at any skill level. Courts Unlimited serves homeowners and commercial clients throughout the state of Utah, and we offer both hardcourt and cushioned sports flooring systems.