Cushion Court Builds
Cushion court systems feature several layers of a specialized cushioning material atop an asphalt or post-tension concrete base. Competition venues and prestigious athletic events around the world choose cushioned sports flooring surfaces like DecoTurf®, Premier Court® and Plexipave® – and with Courts Unlimited, you can, too.
Whether you want to install a high-quality cushion court in your backyard or on a commercial property, you can count on our professional contractors. We have extensive experience designing and building multipurpose courts, and we guarantee our workmanship.
Courts Unlimited is Utah's premier multi-sport surfacing and court builder, and we're a leading source for customized multi-courts and cushioned tennis, basketball and pickleball courts. With us, you have your choice of the following cushion court systems.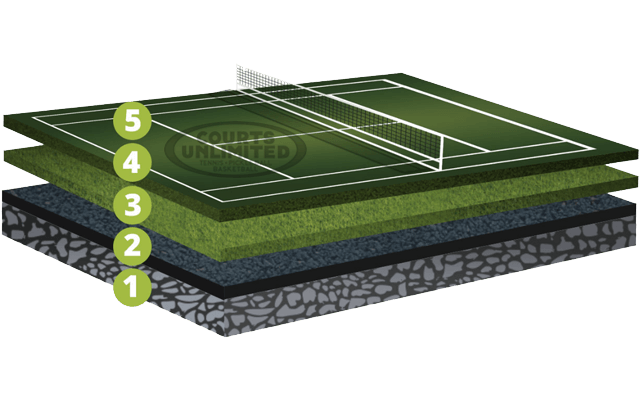 DecoTurf® Cushioned Surfacing
DecoTurf® is a state-of-the-art sports flooring surface made from acrylic resins and styrene-butadiene-rubber (SBR) granules. These materials effectively absorb impact while redistributing pressure, which provides safe, comfortable play and helps prevent surface damage.
A DecoTurf® cushioned system can be customized to meet the needs of tennis, basketball and pickleball players at any level. And with application of the vibrant finish – available in a range of colors – the sports surface is highly durable and resistant to weather extremes and ultraviolet degradation.
Premier Court® Surfacing System
Premier Court® is a high-tech composite cushioned sports flooring surface which, when combined with a specialized acrylic coating, is extremely resistant to cracks. This type of cushioned system comes with a 25-year warranty against cracking, which remains in effect as long as resurfacing is completed every 5 years.
Longevity and protection from cracks are good reasons to choose Premier Court®, but the safe, impact-resistant surface also provides comfortable sports play. And, homeowners and business have their choice of several acrylic color surfaces.
Plexipave® Cushion Courts
Plexipave® systems feature multiple layers of an acrylic cushioning material made from a mixture of SBR granules, ethylene-propylene-diene-monomer (EPDM) rubber granules, compressed plastic particles and special mineral fibers. The sports flooring material offers both impressive durability and outstanding comfort.
Multipurpose courts with Plexipave® are appropriate for both professional and recreational use, and players appreciate how the flooring reduces fatigue on their feet, ankles and legs. As with other cushioned systems, the surface colors are customizable.
Expert Court Installation, Repair and Maintenance
At Courts Unlimited, our professional contractors can design and construct a cushion court with your choice of either a DecoTurf®, Premier Court® or Plexipave® system. And if you aren't sure which type of cushioned system to install, our professional team is happy to help you compare your options.
In addition to cushion court installation, we provide RiteWay system repairs and routine maintenance services. Our team also renovates and rebuilds existing sports surfaces, and we routinely install perimeter fencing, exterior lights and all of the other extras Utah homeowners and businesses require.
If you're interested in installing a cushioned multipurpose court at your residence or commercial property, or if your current cushion court needs expert attention, contact our Riverton, Utah, office and schedule a professional consultation with Courts Unlimited today.