Post-Tension Court Builder
For new and rebuilt tennis, basketball and pickleball courts in Utah, post-tension court construction is the preferred approach for long-term stability. The technique is highly specialized, however, and few local contractors are certified to complete this type of work.
At Courts Unlimited, we have perfected the post-tension concrete process. Our team has been designing and installing high-quality courts for over 25 years, and our expertise and attention to detail ensure exceptional results. When it comes to post-tension courts, we're the Utah contractor homeowners and businesses trust.
Advantages of Post-Tension Concrete Courts
Post-tension construction is an advanced technique developed decades ago for use in parking structures and high-rise buildings. In recent years, professional contractors have begun using the method for tennis, basketball and other courts where saw joints can interfere with play and present problems when playing. – and in Utah, Courts Unlimited was among the first companies to offer court construction with post-tension concrete.
Building a court using this technique provides several benefits. Post-tension concrete is stable on expansive soil, which is common in Utah, as it has an increased ability to resist the effects of heaving and settlement. The post-tension court construction method also eliminates the development of structural cracks and creates a court with long-lasting structural integrity.
Post-tension courts also offer better uniformity in play, as the technique allows for more control over the surface level and slope of drainage. As a result of all these advantages, post-tension concrete courts come with low maintenance costs.
The Post-Tension Concrete Construction Process
Court construction using post-tension concrete requires specialized knowledge and training, as the technique has several steps. Each part of the process must be completed correctly, or the stability of the concrete slab may be compromised.
Construction begins with land excavation and laser grading to create a 1% slope. Next, cables are placed in both directions and pre-drilled wood forms are set to accept the anchoring system. After pouring the concrete, our trained crews install net post sleeves and basketball anchor bolts in the concrete slab. Fence posts are installed in the beam which is a 10" thickened edge around court. When the concrete reaches the required compressive strength, the cables are hydraulically tensioned and anchored, then sealed off with grout.
Once the concrete has fully cured, the multipurpose game court is ready for surfacing and finishing – and that's where the customization comes in.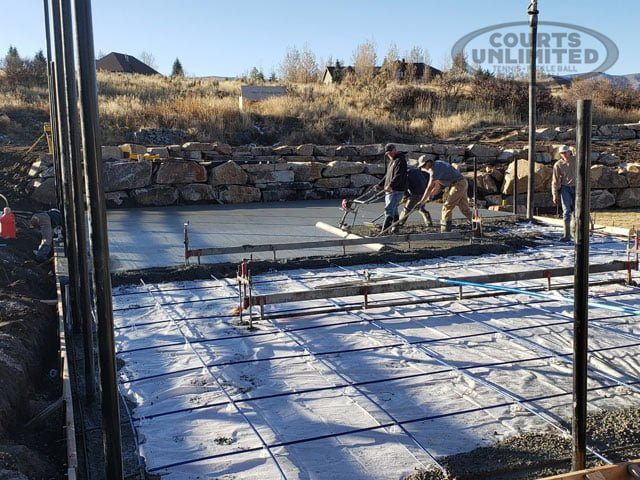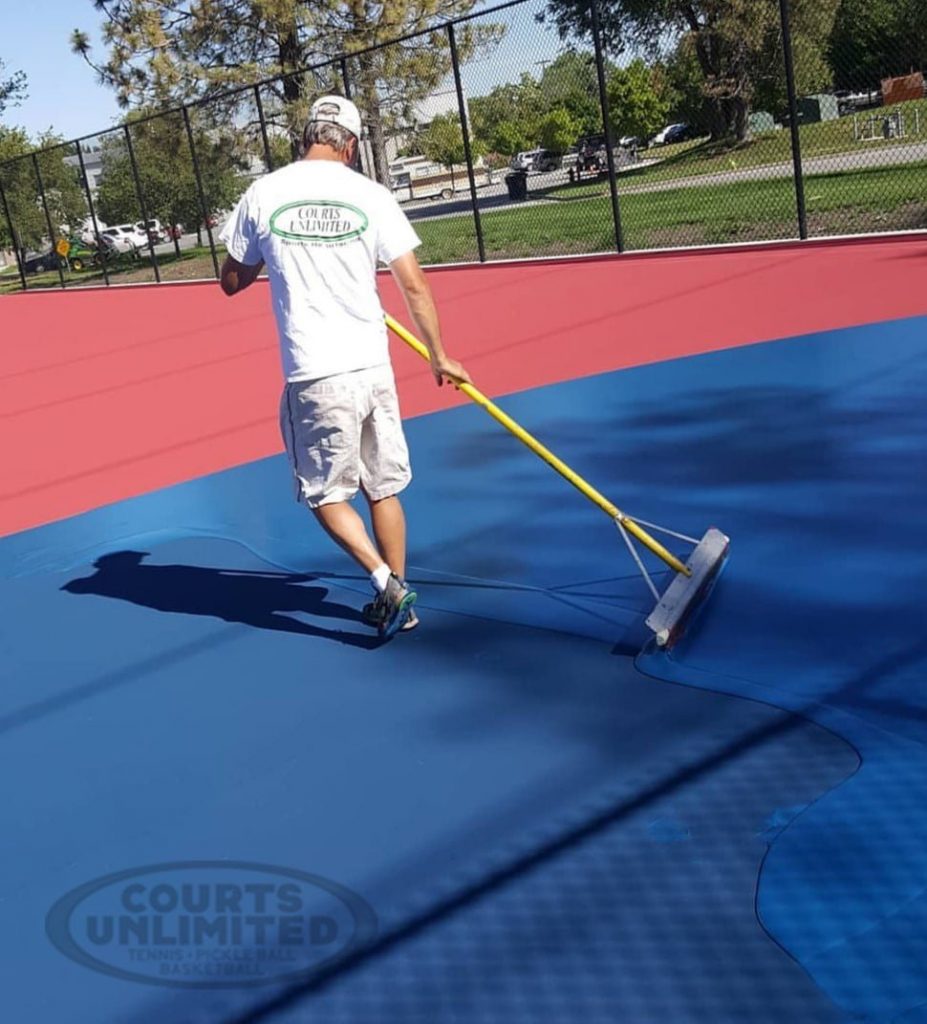 Premium Multipurpose Court Surfacing
At Courts Unlimited, our surfacing is what's sets us apart from everyone else. We offer standard surfacing, applying multiple coats of a specialty acrylic color coating available in a wide range of colors. We also install cushioned surfaces -- DecoTurf®, Plexipave® and Premier Court® -- all of which are premium products regularly used in competition facilities worldwide.
Regardless of which type of surfacing you choose, we'll take great care to make the sports surface look perfect. And with our expertise in post-tension concrete construction, you'll have a court that's both long-lasting and low maintenance.
We look forward to showing you why Courts Unlimited is a leader in the Utah multipurpose game court installation industry. For more information on post-tension courts, contact our Riverton office and schedule a professional consultation today.