RiteWay Crack Repair
Does your court have cracks? The RiteWay Crack Repair System can effectively eliminate the problem and keep the cracks from coming back. And in Utah, Courts Unlimited is the #1 installer of the RiteWay Crack Repair System. Each year, we apply the RiteWay system to thousands of feet of structural cracks, bringing our customer's courts back to pristine condition.
With more than 30 years of experience designing, installing and repairing tennis courts, basketball courts, pickleball courts and other sport surfaces, our professional crews are the most skilled in the state of Utah. We're trained and certified Installers of the RiteWay Crack Repair System, and we guarantee both our workmanship and your complete satisfaction in our services.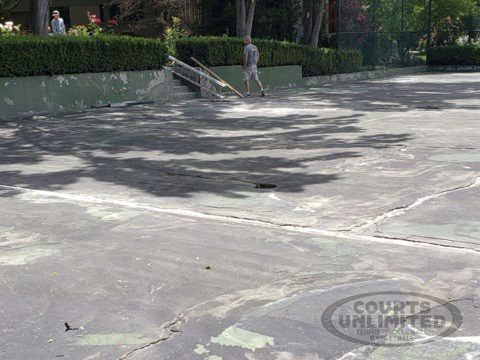 The RiteWay Crack Repair System
Many people who opt for traditional court crack repair methods complain about hollow sounds, dead spots and surface bubbling. And, quite often, the cracks return by the following spring.
With the RiteWay Crack Repair System, this isn't the case. RiteWay is a long-term repair system that uses exclusive technology to water-proof existing cracks with an overlay system. This unique technology allows the existing cracks on your court to move without breaking the membrane of the system and prevents cracks from resurfacing on your court.
The RiteWay system moves and flexes as the soil beneath the sports flooring shifts. Because of this, surface cracks don't reappear for at least two years.
Experts in Court Repair
With the RiteWay Crack Repair System you won't have to fix the same cracks every year, and you'll have a sport surface that is completely playable – no bubbling, dead spots or hollow areas.
However, to achieve these results requires skill, knowledge and expertise in application of the RiteWay System. The professional crews at Courts Unlimited are certified installers of the RiteWay Crack Repair System. We understand the precise installation procedure, and we handle each step with extreme care.
Call on us for RiteWay Crack Repair, and your court will look and play as good as new. Our team will complete the work quickly, and we'll make sure you're satisfied with the results.
Outdoor/Indoor Court Services in Utah
The RiteWay system is the most effective repair for tennis, basketball and pickleball courts and other cracked sports surfaces. But if the flooring has widespread cracking, renovation or reconstruction may be a better solution.
At Courts Unlimited, we provide a full range of services for homeowners and businesses throughout the state of Utah. Along with RiteWay crack repair, we offer professional resurfacing – and having our expert team resurface your court every 6 to 10 years boosts the lifespan of your court by up to 8 years.
We also design and install new courts for families and commercial clients, and our professional contractors routinely rebuild and renovate older courts and sport surfaces. We customize every project, and we offer a range of extras – including multiple types of exterior lighting and perimeter fencing – to meet the particular needs of each customer.
Homeowners and businesses in Utah rely on Courts Unlimited for first-rate multipurpose court services. For more information on RiteWay system repairs, contact our Riverton office and schedule a consultation today.