DecoTurf® System Courts
For tennis courts, basketball courts, pickleball courts and multi-courts in Utah, the DecoTurf® system is a superior sports flooring choice.
Multilayered DecoTurf® hardcourts and cushioned surfaces are regularly selected for use at professional tournaments and sports events around the world, including the US Open, the Olympic Games and the NCAA Championships. And with Courts Unlimited, you can have a competition-quality multipurpose court on your Utah property.
Our professional contractors have decades of experience in DecoTurf® system installation, so we're able to design and construct multi-sport game courts to meet the requirements of athletes and players at any skill level. Courts Unlimited serves homeowners and commercial clients throughout the state of Utah, and we offer both hardcourt and cushioned sports flooring systems.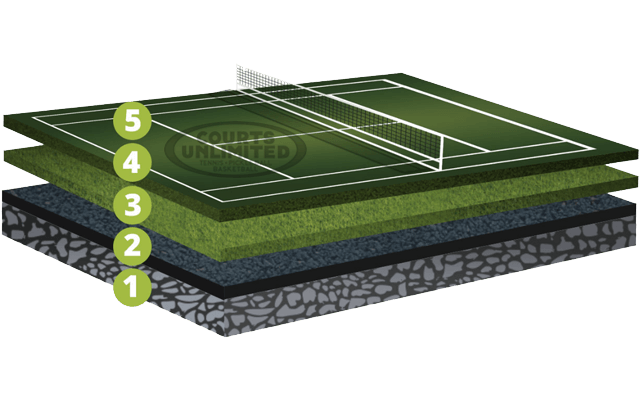 DecoTurf® Hardcourt Surfaces
DecoTurf® hardcourts offer a safe, comfortable playing surface and the high performance you'd expect from competition-quality sports flooring. Plus, even the worst Utah weather is no match for hardcourt DecoTurf® systems – they're engineered to withstand both grueling heat and subzero temperatures.
At Courts Unlimited, we typically use post-tension concrete as the first layer in our hardcourts, though asphalt is also an option. The other layers consist of an acrylic resurfacer, a texture course that determines speed of play and court surface traction, a vibrant colorized finish – available in a wide range of shades – and either a textured or untextured acrylic latex line paint.
As we apply every layer, we pay strict attention to detail. Our team takes great care with every court installation, and we can provide you with a DecoTurf® hardcourt that's built to last.
DecoTurf® Cushioned Systems
DecoTurf® cushioned sports flooring systems offer a softer surface and a consistent bounce. They're designed for safety, and the cushioning materials absorb impacts and redistribute pressure to put less stress on the body. At the same time, the multi-sport surface is incredibly durable and resistant to weather extremes.
The key to this type of DecoTurf® system is the layering of heavy and fine rubber courses, made with 100 percent acrylic resins and styrene-butadiene-rubber (SBR) granules. And like the hardcourt systems, multilayer surface also includes a texture course, a durable color finish and latex striping paint.
At Courts Unlimited team can adjust the speed of play through the application of additional cushioning layers. Our courts are completely customizable, based on your preferences.
Trusted Utah Experts in DecoTurf® Systems
Athletic event organizers prefer DecoTurf® hardcourt and cushioned sports flooring surfaces because the advanced materials offer maximum player comfort and outstanding performance. But proper installation of the multilayered surfacing requires expertise -- and the professional contractors at Courts Unlimited are among the few in Utah who are qualified to install DecoTurf® systems.
Our expert team has been designing, constructing and maintaining DecoTurf® multipurpose courts for more than 25 years, and we're known for providing top-notch workmanship and stellar customer service. Let Courts Unlimited take on your Utah residential or commercial project, and you can expect exceptional results. Contact our Riverton office and schedule a consultation to discuss DecoTurf® system installation today.